DIY tips for Jewelry Care
Whether it`s 100-year-vintage heirloom jewelry or the latest purchased jewelry. If you cannot take care of it properly, it'll begin to appear dull and dirty. The trick to maintaining any jewelry is you should know how to attend to every kind of material.  So we are sharing DIY tips for Jewelry Care.
You should not take care of a pearl earring the same way you'll take care of a gold necklace. Knowing the right approaches for every piece is very important.
Whether it`s nice or gown jewelry, there`s usually a sentimental purpose at the back of each piece of jewelry you buy, and you`ll need to put on it forever. To assist you we have created this list. Here are a few short and clear guidelines  attend to your jewelry to save you tarnishing, scratches, and dullness.
General DIY tips for Jewelry Care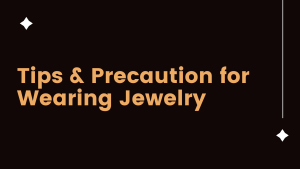 Your jewelry is meant to be worn. Your beautiful necklaces, bracelets, earrings, and rings are of no use if you can't show them to the world. Wearing your best clothes makes you feel good. The same way Jewelry enhances women's beauty. Although the jewelry is designed to be worn, repeated wear may cause it to break, fall, or wear out. The more we love and wear jewelry, the worse it gets if proper care is not taken.
Fortunately, you can slow down this process by following a few simple steps and precautions:
Keeping it dry: It's always bad to get your jewelry wet. This can lead to cracks, loss of gloss, and water stains.
Stay away from chemicals: While this may seem obvious, you can find harmful chemicals in lotions, perfumes, and hairsprays. Keep jewelry away from these products.
Wear Last: To avoid chemicals, wear jewelry last and remove it first.
Change your jewelry: Don't wear the same thing every day. It losses its shine if used too much. Give your other gems some love!
Know when to take off: Most people know how to take off their jewelry before bed, but forget to take them off when swimming, gardening, cleaning, or exercising.
Some rules of jewelry care are for particular styles of materials, however, a few rules universally apply. While those rules may appear simple, they make a big distinction in keeping the splendor of your pieces.
How to Take Care of Your Jewelry??
Taking care of jewelry may be a tough task, in particular, while you`re coping with such a lot of versions in type, style, period, and material. We can provide you with a lot of approaches to attend to your jewelry, however, it is up to you which method works best for you.
 How Do I Take Care of My Necklace?
When wearing necklaces:
Be aware of length: Longer necklaces are much more likely to bop round and put on down. They also are much more likely to get tangled on different matters or with themselves.
Double-test the clasp: Whether your necklace is held collectively via way of means of a ball, barrel, fishhook, or push-button clasp, continually double-test to make certain it`s secure. If it falls off your neck, it is able to without problems get broken or lost.
Avoid layering: Some humans want to layer their necklaces for a fuller appearance however be cautious of this. Some necklaces can break, scratch, or tarnish from entering touch with different pieces.
When storing necklaces
Avoid tangling: Necklaces are generally the longest portions of jewelry in any collection, so they may be maximum prone to tangling. To keep away from this at the same time as in storage, lay them flat in a drawer, allow them to grasp freely, or prepare them with packing containers and trays.
How Do I Take Care of My Bracelets?

When wearing bracelets:
Of all the jewelry, the bracelet stands out the most. They are more likely to touch.  Not only will this make the bracelet more durable, but the oil from your hands will accumulate on the piece. Bracelets can be tricky to clean, so it's best to reduce the amount of oil and dirt that comes from your skin.
When storing bracelets:
Avoid contact: Store bracelets flat in a drawer, hanging freely or in small boxes and trays — this will prevent them from coming in contact with other bracelets or pieces of jewelry.
How Do I Take Care of My Earrings?
When wearing earrings:
Tighten it:  Earrings are generally lighter than other jewelry and do not have a direct line of sight. So, they are most likely to fall off and go unnoticed by you. If you don't want to wear just one earring, always make sure the clasp is in place.
When storing earrings:
Best for Hanging: It's best to hang the earrings or store them in a pierceable place so they don't come into contact with other objects. You can also mark them all for easy selection.
How Do I Take Care of My Ring?
When wearing rings:
Wear it right: Whether you are buying a new ring or changing the size of an old one, the ring should fit your finger well. Wearing a ring that is too tight can cause it to crack over time. At the same time, rings that are too large can be easily dropped, damaged, or lost.
When storing rings:
Separate storage: Rings, like other jewelry, should be separated to avoid scratches or fading. Jewelry trees are perfect for splitting and marking rings.
How to make your jewelry look like new
All these techniques and DIY tips for Jewelry Care will keep your jewelry looking great for a while, but you can do a lot of things. Eventually, you will have to take your jewelry to a specialized store. When you need to bring your jewelry.